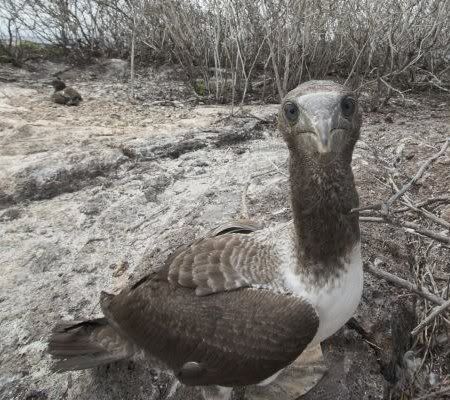 Heeheeee.. Made you look.. Is that not a fabulous photo or what..?
'Tis another night of this geekette wandering the many highways and bi-ways of the cyber World in hungry search for.. MORE POWER for my websites.. Tonight's adventure mixed the geekette with her past in wildlife rehabilitation and her possible future of being moved to Bolivia.. Whoo..
Was roaming the expanse of the Internet in search of all things Ruby on Rails when I encountered the little fellow above, a juvenile Booby from the Galápagos Islands.. The website, Oleb.net, was being highlighted as a way that Ruby on Rails is being used across the Web these days..
Well, sigh, all good things must eventually come to an end and so shall it be with this Station Break.. Off to see what else my Gray Matter can absorb before it finally zonks for the night..
Cyber hugs from Talking Rock..